Signing Up
This is the first thing you should do so as to be able to log in to the member area to send sms. Signing up is free and easy, all you need is a valid email address and a valid gsm number. Delivery reports will be sent to your supplied phone number and email address so they need to be correct.
To sign up, click on the Register link in the top menu on any page.

This takes you to the sign up form shown below, fill the form with the required information. You'll need to form a new and secret password of at least six characters for your account. Click the
Submit
button when done.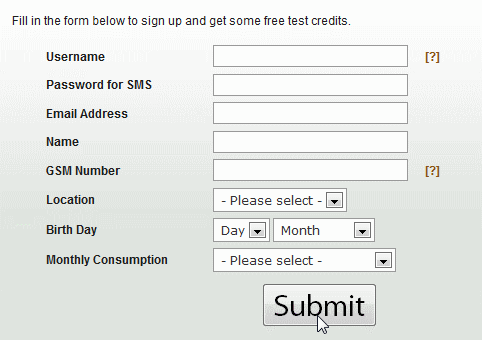 Sign Up Activation
On successful sign up, a message will be sent to your email address containing the activation link, you will need to click this link to activate your registration so you can log in to the member area.
Signing In
After activating your registration, you can sign in or log in to the member area to send sms using the login form at the right of every page. Enter your username and password. You'll find more tutorials on how to use the service when you log in.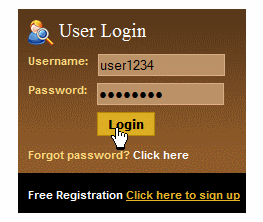 Resetting Password
If you've lost your account password, you can create another one; click on the link just below the login button as shown below :
Enter your email address in the form that comes up. A link will be sent to your email address, click the link and use it to reset your password.